Title: Chosen: One Family's Journey With Autism
Author: Janelle Esker
Audience:Family & Relationships : Children with Special Needs
Health & Fitness : Diets – Special Conditions
Publication Date: Oct 20, 2012
Pages: 140
Paperback ISBN: 978-0-9830760-7-0
E-Book ISBN: 978-0-9885073-0-2
---
Description: Many life circumstances have helped me grow as a Christian. But without a doubt the one that stands out and allowed me to grow the most in Christ-like character has been being Kylie's mom. The diagnosis twenty two years ago has turned out to be one of the hardest, yet most rewarding experiences to ever happen to me and my family. It has caused us to reevaluate truth, and to realize that Christ's power is made perfect in our own weakness. These are hard lessons to learn.
It is my deepest hope that this book will be an encouragement to you to love God with all your heart, soul, mind and body. To learn from our family's mistakes and to know without a shadow of a doubt that God's ways are perfect.
~ Janelle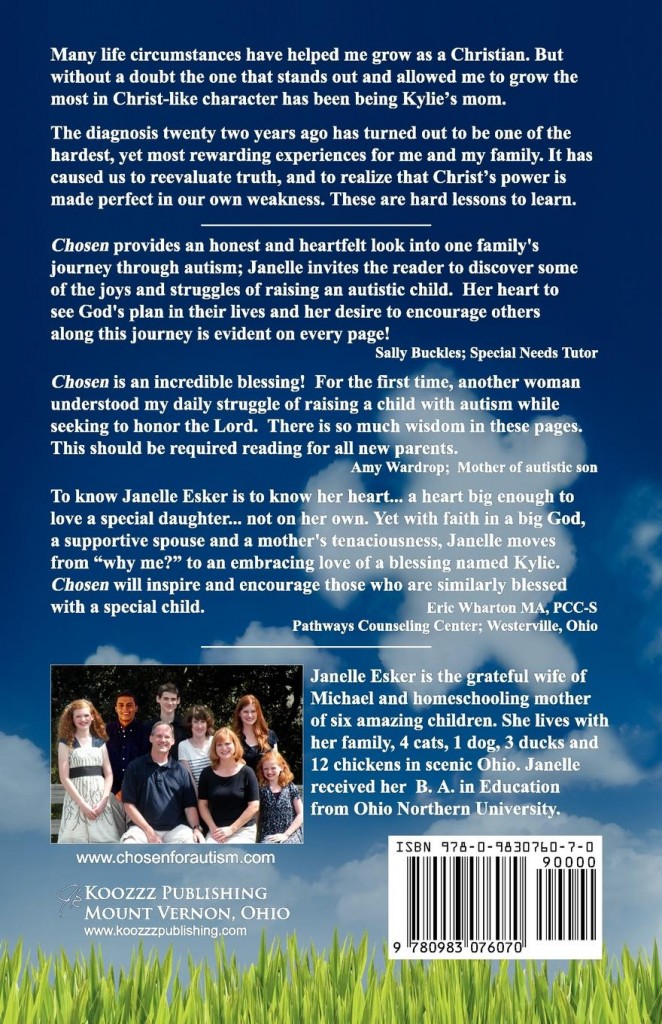 ---
"Chosen: One Family's Journey With Autism" is the story of Mike and Janelle Esker's journey with their daughter Kylie which began twenty-two years ago. Janelle shares the details of her feelings, reactions, joys and struggles she experienced; told from a mother's point of view.
Janelle's writing is heartfelt and transparent as she identifies with the others parenting special needs children.  Over and over  again she reminds the reader that they are not alone in their struggles. She discusses allergies in light of symptoms, reactions to medical treatments, prescription drugs, and special diets. Janelle is a strong proponent of advocacy for special needs individuals and introduces a wide range of choices available for management and treatment therapies, intervention, and support.
Richard R. Blake: Midwest Book Review Contributor
Chosen provides an honest and heartfelt look into one family's journey through autism; Janelle invites the reader to discover some of the joys and struggles of raising a family with an autistic child. Her heart to see God's plan in their lives and her desire to encourage others along this journey is evident on every page!
Sally Buckles: Special Needs Tutor
Chosen is an incredible blessing! For the first time, another woman understood my daily struggle of raising a child with autism while seeking to honor the Lord. There is so much wisdom in these pages. This should be required reading for all new parents.
Amy Wardrop: Mother of autistic son
To know Janelle Esker is to know her heart…a heart big enough to love a special daughter…not on her own. Yet with faith in a big God, a supportive spouse and a mother's tenaciousness, Janelle moves from why me? to an embracing love of a blessing named Kylie. This story will inspire and encourage those who are similarly blessed with a special child.
 Eric Wharton MA,PCC-S ~ Pathways Counseling Center; Westerville, Ohio